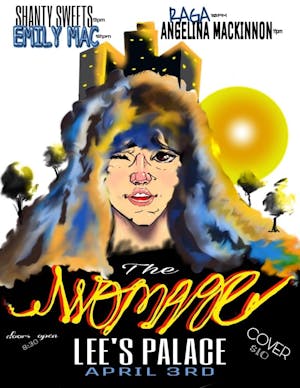 Rescheduled from April 3 to July 17
The Womage,
Bringing you some of Toronto's BEST upcoming Women in Music with a mix of different styles taking the stage all in one night! Join us for a spectacular night of music.
Hosted at Lee's Palace April 3rd,
Doors open at 8:30
10$
Be prepared for this incredible line up!
________________________________________
Shantay Sweets-KRSRAGA
Angelina Mackinnon-Emily Mac
9:00-
Shanty Sweets is a neo-soul, roots reggae, jazz (with a mix of ska) performer from Toronto. Her versatile style, or "versastyle", shows through effortlessly allowing herself to float through the many different genres mentioned with ease. With many years of experience and a deep love for music, she knows how to keep an audience entertained and on their feet.
Alongside her bandmates, Shanty has performed at many events and venues all throughout the T-dot, such as the AGO (Art Gallery of Ontario), The Carlu for a show sponsored by Western Union, The Globus Theatre (Bobcaygeon), Atria (Oshawa) and the heart of the city, Nathan Phillips Square, just to name a few.
She takes pride in giving her audience her all and strives to connect, spread wisdom, inspiration, and create an uplifting feeling through her music.
Her influences run the gamut of excellence.
They include: Nina Simone, Jill Scott, Alanis Morisette, Tracy Chapman, India Arie, Ella Fitzgerald, Sade, Erykah Badu, Leela James, Beres Hammond, Billie Holiday, Phyllis Dillon, Lauryn Hill and many more.
@shantysweetsmusic
https://soundcloud.com/shanty-sweets
10:00-
KRSRAGA is a Toronto based artist with a smooth R&B voice that carries notes of Hip Hop. She is influenced by the music she grew up on having a musical background. From performing at her Grandmother's lodge at a young age to booking gigs all around Toronto at the age of 22, she has fallen in love with being on stage and moving a crowd. From producing half of her own discography to branching off to work with more producers she has gathered a million streams in total on Spotify. The results of the last three years are a dedicated intimate group of fans that swear by her music.
@krsraga
https://fanlink.to/krsraga
11:00-
Angelina Mackinnon is starting to leave a mark in Toronto's Music Scene.
This power house POP/Soul/Folk driven singer songwriter is becoming known for her catchy, poetic and heartfelt tunes.
Opening up for one of The Lumineers in 2019 and playing all over Toronto ever since arriving in 2016. Originally from Charlottetown PEI, shes had the opportunity of playing at The Indian River Church known for its acoustical treasure.
Now based in Toronto for the past couple years and working with producers from Canada to Austria for new music coming out in 2020.
Accompanied by a full band with some of Toronto's favorite musician for a warm and exciting set on April 3rd.
@officiallyangelina
https://distrokid.com/hyperfollow/angelinamackinnon/to-me
12:00-
Like the sweet smoky burn of a single malt scotch Emily Mac's raw
powerful voice, bold confessional lyrics and sexy rock swagger will
set you on fire! She has captivated audiences across North America
from NYC's Rockwood Music Hall, Greenwich Village's The Bitter
End to festivals like CMW and Indie Week. Nominated for a TIMA for
best original song she is currently writing and recording her debut
@emilymacmusic
http://www.emilymacmusic.com/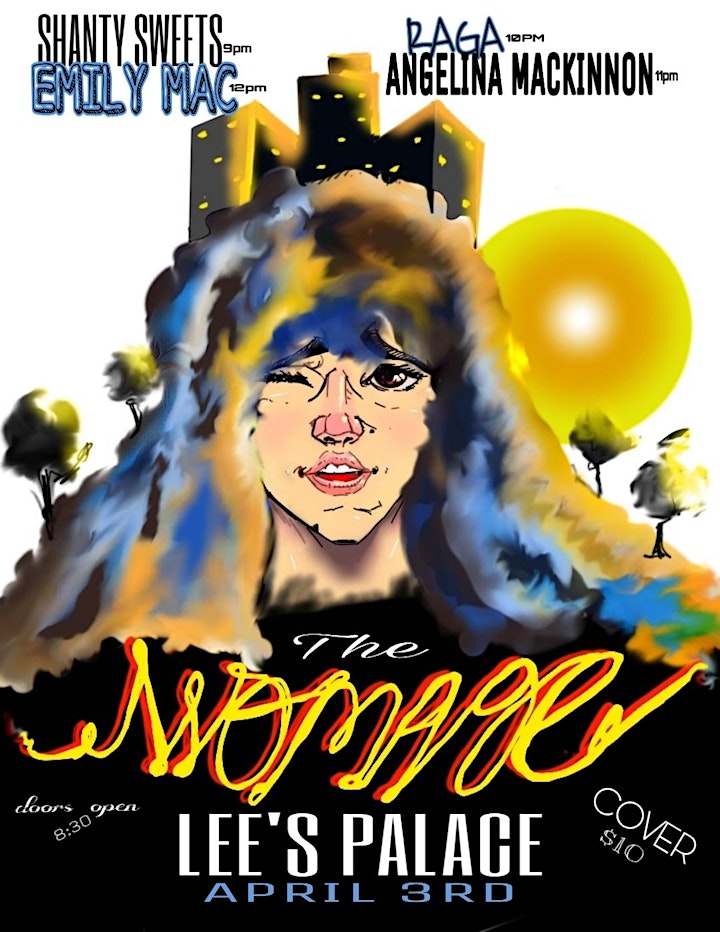 Venue Information:
Lee's Palace.
529 Bloor St. West
Toronto, ON, M5S 1Y5